Technodur® and Technosphere® are torch applied welding ropes.
Technodur® and Technosphere® consist of a nickel wire core, coated with a thick layer of Tungsten Carbide and a Nickel Chrome alloy.
Technodur® is manufactured with cast crushed tungsten carbide grains.
Technosphere® is manufactured with unique spherical cast tungsten carbide ( Spherotene®)
Technodur® et Technosphere® can be welded in several layers if significant overlay thickness is needed.
Applied with the Technokit T2000, an oxyacetylene torch, it offers the major advantage of preserving the hardness of the tungsten carbide particles/
Technodur® and Technosphere® are available in 20 kg reels (also possible in 10 or 15 kg upon request).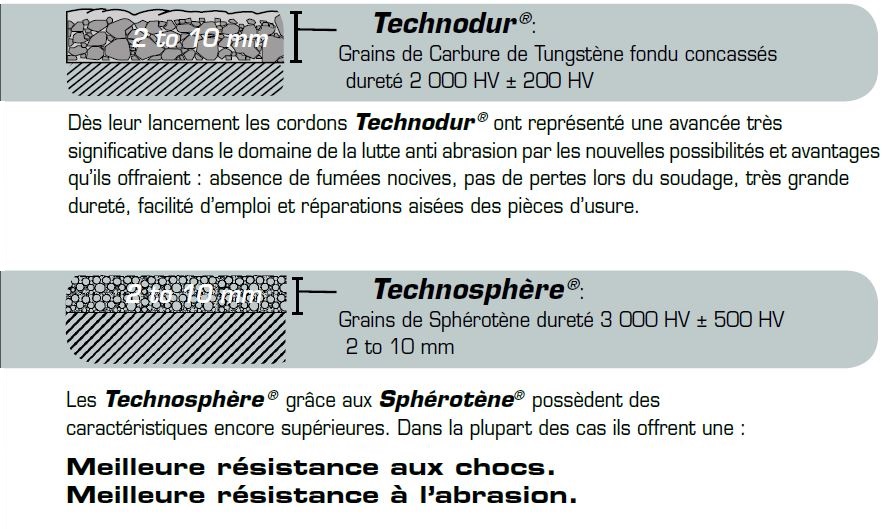 | | | Rope diameter | Grain size | Deposit thickness |
| --- | --- | --- | --- | --- |
| | SGF | 4/5/6 mm | 0.1 to 0.2 mm | 2 to 4 mm |
| | GF | 4/5/6 mm | 0.2 to 0.4 mm | 2 to 5 mm |
| Technodur® | GN | 4/5/6 mm | 0.4 to 0.7 mm | 3 to 6 mm |
| | GG | 6/8 mm | 0.7 to 1.2 mm | 3 to 8 mm |
| | TGG | 6/8 mm | 1.2 to 2.2 mm | 4 to 10 mm |
| | SGF | 4/5/6 mm | 0.1 to 0.2 mm | 2 to 4 mm |
| | GF | 4/5/6 mm | 0.2 to 0.4 mm | 2 to 5 mm |
| Technosphère® | GN | 4/5/6 mm | 0.4 to 0.7 mm | 3 to 6 mm |
| | GG | 6/8 mm | 0.7 to 1.2 mm | 3 to 8 mm |
| | TGG | 6/8 mm | 1.2 to 2.2 mm | 4 to 10 mm |
Welding ropes Technogenia are particularly suitable for tools or parts working in severe abrasion, erosion and corrosion conditions. Mainly used in oil and gas drilling, agriculture and food industry, bricks and tiles, foundry, dredging, mining, steel industry, waste treatment – biomass, tunneling, …