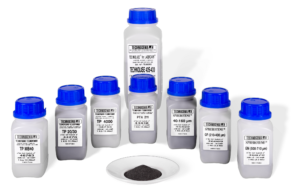 Powders developed by Technogenia are the solution to a wide range of hardfacing or cladding challenges. We have 4 types of powders :
Nickel based hardfacing torch powders. Hardness from 20 à 60 HRc..
Nickel based hardfacing torch powders with spherical or crushed tungsten carbide.
PTA (Plasma Transfert Arc) powders
Lasercarb® powders developed for laser cladding and laser hardfacing.
Technogenia powders are particularly suitable for tools or parts working in severe abrasion, erosion and corrosion conditions. Mainly used in oil and gas drilling, agriculture and food industry, bricks and tiles, foundry, dredging, mining, steel industry, waste treatment – biomass, tunneling.